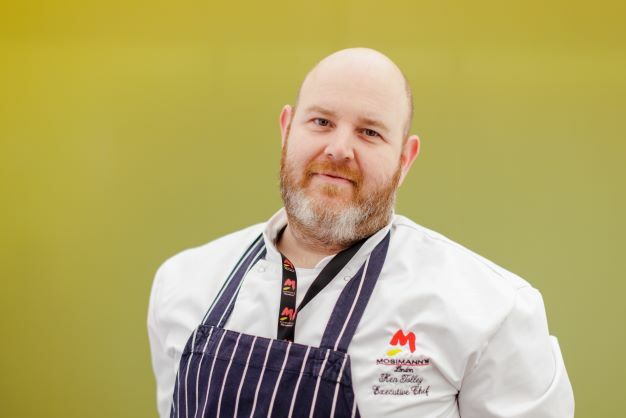 Mosimann's Private Dining Club in Belgravia welcomes new Head Chef
This September sees a new Head Chef, Ken Tolley, join Mosimann's Private Dining Club in Belgravia.
Ken has an illustrious career working at some of the top restaurants in London. In recent years he has worked on the events side of the Mosimann's business through the company's party service so is familiar with the 'cuisine naturelle' style of cooking that Mosimann's is famous for.
Ken started his chef's training in 1999 with a vocational course in Long Island, New York, which led to him studying at Johnson and Wales University, a leading culinary school in the USA.

During an externship in his final year of the bachelor program, Ken started his UK journey, working at The Wentworth Club in Surrey before moving to London in 2009 where he assisted in opening Dean Street Townhouse and relaunching Electric House. Next was a move to Corbin & King 's Delaunay and Beaumont Hotel as executive sous chef and in 2016 he became head chef at Hoi Polloi in Shoreditch's Ace Hotel.
Since then, he has also worked for Hawksmoor and Gaucho before moving over to events with Mosimann's party service including Royal Windsor Horse Show 2022, and through Living Hospitality at the 2018 winter Olympics.

Chef Tolley, said: "I've been running the kitchen for Mosimann's party service for the last year, so I was extremely honoured and proud to be offered the reins of the Club. Having worked with Mosimann's and by extension Living Hospitality for a few years, I believe my understanding of Chef Anton's standards and food style will bring real enjoyment to our guests.
"I will be introducing some new dishes using seasonal ingredients, creating specials of the day and revisiting the private dining room menus. I'm also excited to be reintroducing some of the older classics such as chicken liver parfait, wild mushroom goulash, monkfish terriyaki and calves liver. We know they are popular with guests and they'll form part of the signature menu."
Mark Mosimann, Managing Director of Mosimann's said: "Ken has a fantastic background with a career spanning some of the best restaurants in London. We're delighted to have him transition from the events side of our business to the private dining club this September.
"He understands the Mosimann's style of cooking and our guests and is passionate about seasonality and using the best of British ingredients. We can all look forward to some incredible dishes from his kitchen."
Readers considering a membership to Mosimann's can visit Membership - Mosimann's for more information. The private dining rooms are also available for non-members to book. More details are available here: Private Dining Page - Mosimann's. Alternatively, please call the club on 020 7838 6330 and one of the team will happily discuss the available options.
ends
For further information, please contact [email protected].
About Mosimann's:
Set in a striking converted 19th century church in the heart of Belgravia, Mosimann's is one of the world's most prestigious private dining clubs.
Established in 1988 by renowned chef, Anton Mosimann, a passion for excellence runs through every element of the Mosimann's experience and the menu is based on an ethos of 'cuisine naturelle'. Using seasonal and sustainable ingredients the chefs produce the freshest and most refined dishes, which led to HRH The Prince of Wales bestowing Mosimann's with Royal Warrant holder status for Catering Services in 2000.
The stunning interior architecture at Mosimann's sees the main restaurant sit at the heart of the building, overlooked by the vaulted ceiling and Balcony Bar on the mezzanine level above, which acts as a gateway to seven private dining rooms, which are available for non-members to hire.
Mosimann's also offers a party service catering events from a small, intimate dinner for two to banquets for thousands. They are the caterer of choice for an illustrious list of organisations that count on them for their consistently outstanding results and have catered a wide variety of events including Royal weddings, Guards Polo Club, the Royal Windsor Horse Show, the Olympics and numerous international expos.